GREAT SOUTH COAST TOUR
2021
CANCELLATION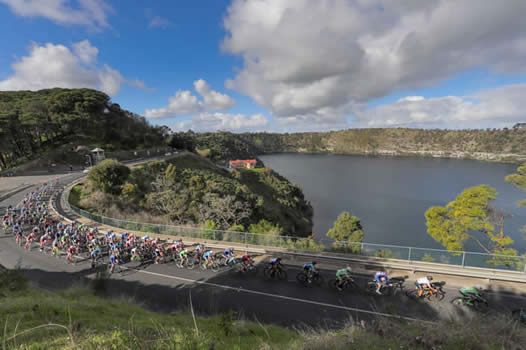 DIRECTOR'S STATEMENT:DIRECTOR'S STATEMENT:
CANCELLATION: 2021 TOUR OF THE GREAT SOUTH COAST
(Statement issued on July 19, 2021)
It is with deep regret that I am compelled to advise of the cancellation of the 2021 Tour of the Great South Coast, scheduled to be held from August 31-September 5.
The tour, founded by Caribou Publications in 2012, had never looked better; sponsorship was at an all-time high, teams from throughout Australia and New Zealand were ready and eager, and a two-day women's race was set to be introduced into Victoria's Glenelg Shire.
Developments outside Caribou's control have led to the cancellation, a drastic measure forced upon us by tortuous uncertainty with interstate border closures, unacceptable - but understandable - financial conditions imposed upon our company through wholesale changes to the administrative structure of Australian cycling, and a puzzling attitude from the Victorian State Government regarding tangible support.
As of today, just six weeks before the tour's programmed commencement, I cannot guarantee any of our four wonderful participating municipal councils that the race will take place; sadly, I cannot see any light at the end of the tunnel because of the bewildering politicisation of the Covid Virus issue in our country.
South Australia's borders are closed to Victoria, New South Wales, the ACT, and parts of Queensland. If the race were to start tomorrow, we would be lucky to assemble a line-up of 20 riders. Back in 2019 when the tour was last held, 75 per cent of our field came from those States and Territory.
Victoria is currently enduring its fifth painful lockdown since March, 2020. Geelong, where the tour's administrative headquarters is based, is listed as a "high-risk exposure site." The event's four front-line managers live in the Geelong region; like all local residents, we are prohibited from driving more than 5kms to meetings or visiting our equipment storage unit.
Back in 2012 when the tour was first held, Caribou worked harmoniously with Cycling Victoria in organising and raising funds for the event. CV agreed to underwrite the monetary component and, as I understand it, reaped healthy profits from its investment as the race blossomed.
In latter years, I believe the financial situation compacted a little as CV's tour costs rose for a variety of reasons.
When Cycling Victoria was absorbed into the new nation-wide AusCycling system in 2020, the Melbourne-based AusCycling ruled out any future underwriting agreements for National Road Series races. Caribou, which has self-funded hundreds of events throughout Australia since its formation in 1980, chose to take full responsibility for the financial component of the Great South Coast Tour and sustained moderate roll-on losses when it was postponed/cancelled twice last year.
Optimistically, Caribou – backed enthusiastically by the Glenelg Shire and South Australia's City of Mount Gambier, District Council of Grant and Naracoorte Lucindale Council – plunged head-on into the organisation of the 2021 cross-border event which is ranked high on the NRS calendar and is exceptionally well-received in the regions it visits.
Even the South Australian Government agreed to commit funds for the first time, a most welcome and pleasing development. Valuable long-term sponsors Campolina, Scody, the CFMEU, Carlin & Gazzard, MiniJumbuk, G.J. Gardner Homes, the Gordon Hotel, Quest Apartments and Logans Cycles were ever-supportive.
Because of the roller-coaster uncertainty, Caribou was becoming increasingly worried about the continued delay in launching our customary mainstream media-promotional campaign, a critical vehicle in exposing and retaining our fabulous sponsors. We have always worked on a 10week pre-tour program; I want to avoid watching this aspect descend into mediocrity.
Additionally, Caribou's tour expenditure is mounting daily and our now-small company is confronted by the prospect of sustaining heavy, irretrievable losses if we push-on to start-date and further lockdowns border closures are thrust upon us -even during the race. We would be obliged to return all sponsorship contributions. Gone are the days when Caribou could take a massive hit.
I am awfully disappointed about being forced into taking the cancellation step and am unable to make any prediction/statement on the event's future; the circumstances in which we all live prevent this.
I wish to offer my sincere thanks, gratitude and blessings to the countless individuals and organisations who gave Caribou and the sport of cycling their faithful backing over the past 12 months to ensure the tour's future. Hopefully, it will survive the rough ride and prosper forever.
With kindest regards,
John Craven
Tour Founder / Director