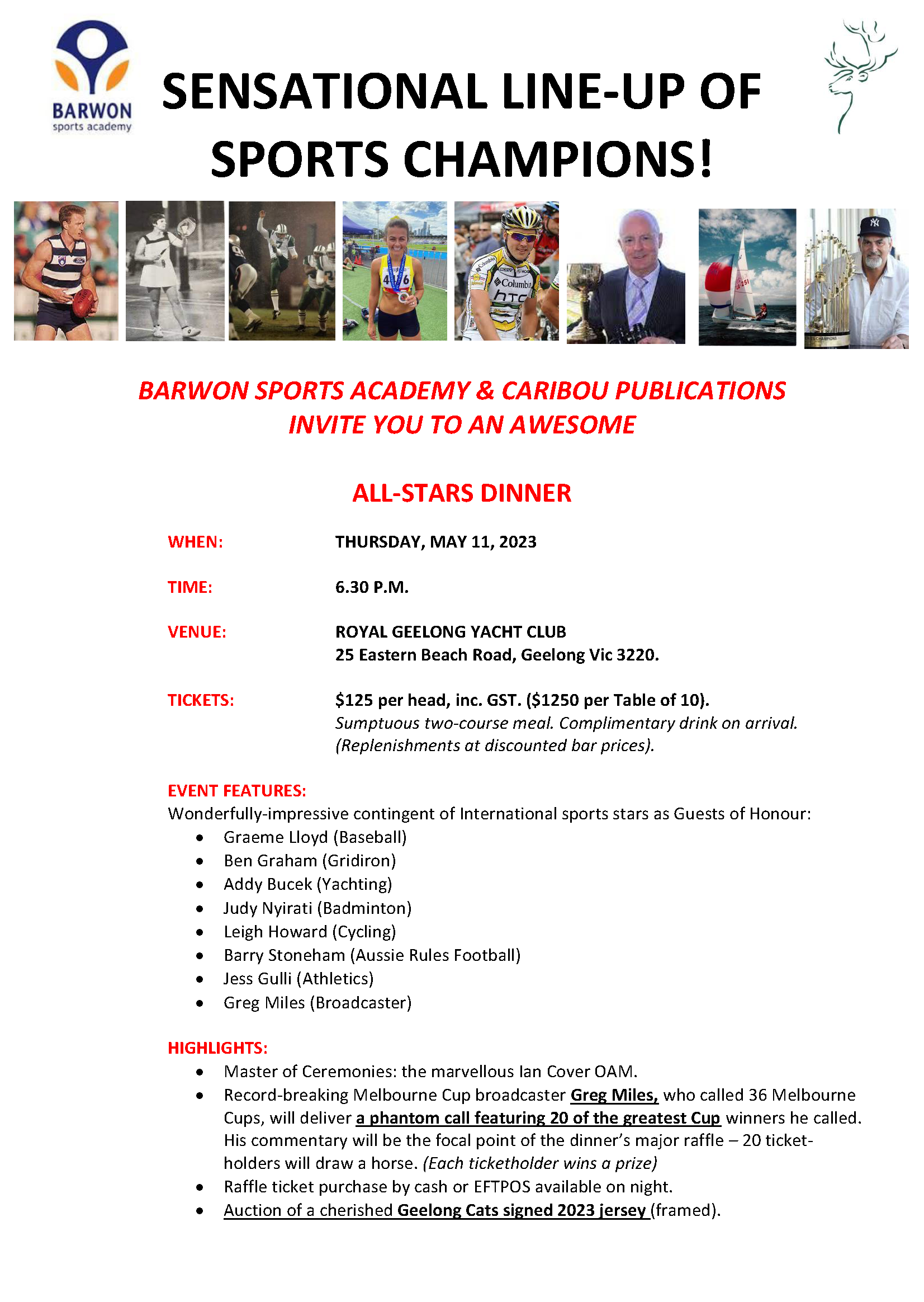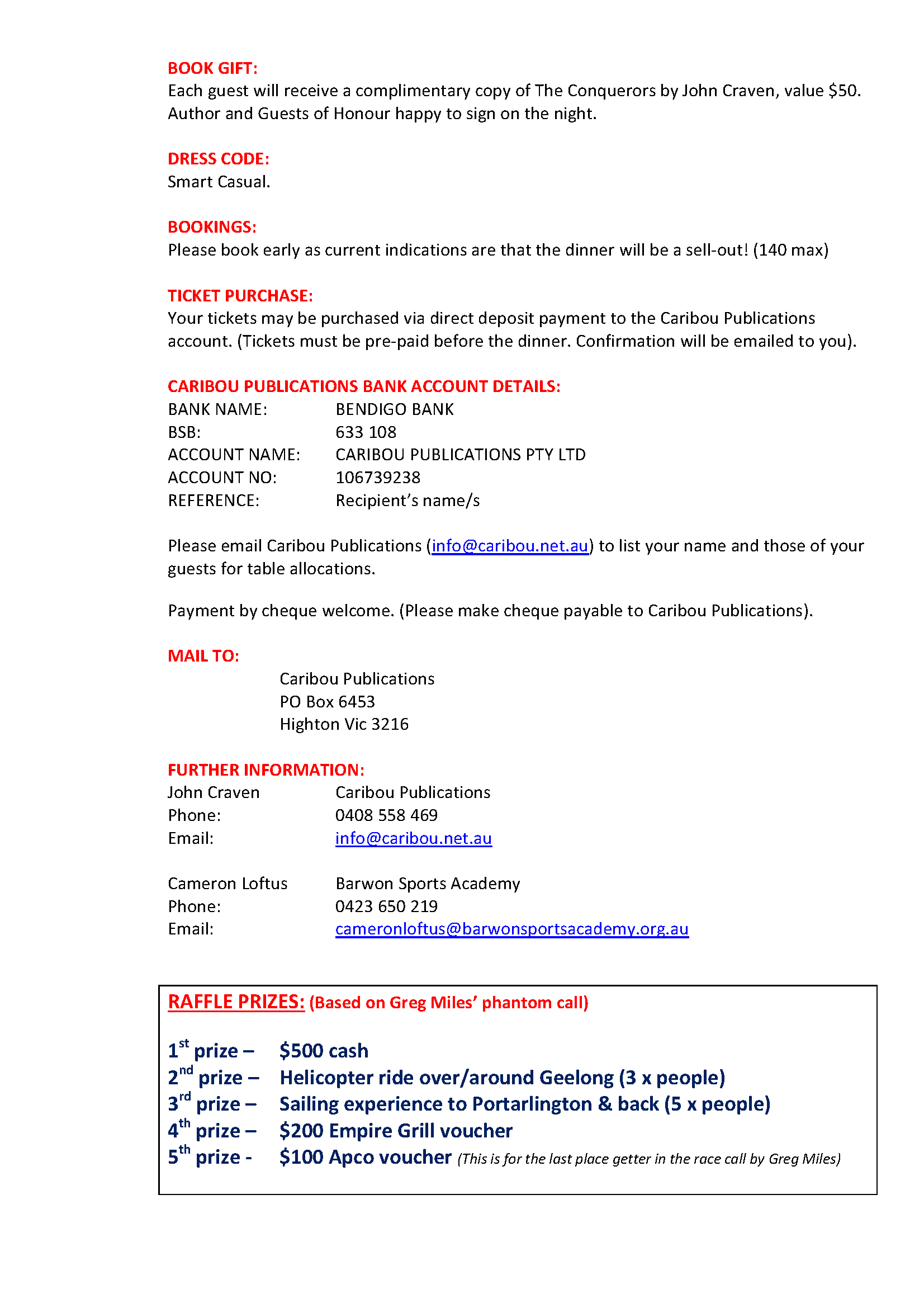 A LAUNCH FOR THE AGES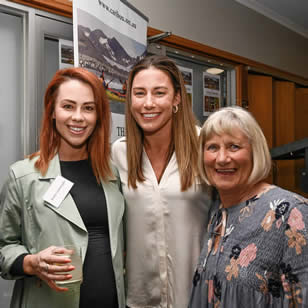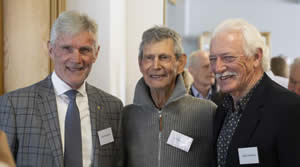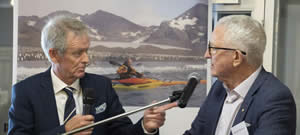 The most spectacular collection of Geelong's all-time great International sports icons and Brownlow medallists assembled at the Royal Geelong Yacht Club on October 4 for the launch of John Craven's acclaimed book The Conquerors.
Hosted by the popular evergreen entertainer Ian Cover - star of the Coodabeen Champions' long-running radio show - the launch attracted around 230 representatives from 33 sports, the media and local dignitaries, including the Mayor of the City of Greater Geelong Cr. Peter Murrihy and the President of the Geelong Chamber of Commerce and Industry Dr. John Stekelenburg.
Test cricket legends Paul Sheahan, Ian Redpath and Alan Connolly launched Craven's book which documents Geelong's Top-100 All-Time Sports Greats - in his studious view.
Netball superstars Simone McKinnis and Madison Browne were present. So were Geelong's finest swimmers Peter Doak and Tony Strahan. Seven-times Australia's Socceroos captain Steve Horvat, international baseball mega-star Graeme Lloyd and USA Super bowl luminary Ben Graham graced the yacht club with their attendance.
Cycling was represented by the illustrious four-times world champion Leigh Howard, dual Olympian Tracey Gaudry, multiple Commonwealth Games medallist John Hine, Tour de France exponent Donna Rae-Szalinski and the veteran Don Wilson - Mexico City Olympian and twice Australian professional road title holder.
Other sports and their stars included: David Ramage, Jeff Sykes, Jon Berney and Angus Widdicombe (rowing), Chris Commons, Don Commons, Lou Rowan, Georgie Clarke, John Minns, Chris Unthank, Jess Gulli-Nance and Mick McGrath (athletics), Greg Stewart and Tim Bentley (triathlon), Addy Bucek, Barry Walker and Doug Jarvis (yachting), Steve Haberman (shooting), Kelly Cartwright (para athletics), John Jacoby (canoeing), Gail Couper (surfing) and Judy Nyirati (badminton).
Aussie rules football identity Alistair Lord, the 1962 Brownlow medallist and '63 Geelong premiership centreman, described the launch as "absolute magic.
"It was an enormous priviledge to be gathered under the same roof as all those champions," he said. "It was a huge day for Geelong, one that I will never forget".
The Conquerors was a 47-year-long writing and reserach project for Craven who commenced his epic while engaged as a sports writer on the Melbourne Herald from 1973-83. He had previously worked as a writer in Papua New Guinea in the mid-1960s before signing-on at the Geelong Advertiser and Launceston Examiner.
In 1980, Craven founded Caribou Publications, a trail-blazing publishing, media services and event management company which - among other conquests - became Australia's largest cycling promotions outfit, and organised the iconic Great Ocean Road Marathon festival and Yarra River three-mile swim.
As a sportsman, he played in Port Moresby's 1966 Aussie rules premiership side in the Papuan League and was the Victorian professional middle distance runner-of-the-year in 1977-78. In club cricket, he proudly yielded three hat-tricks with his pedestrian left-arm medium-fast deliveries.
A horse racing devotee, Craven served on the Geelong Racing Club committee from 1994-2002 and was the Briseis Club's foundation chairman.
He was awarded an Australian Sports Medal in 2000, and an Order of Australia Medal in 2018 for services to cycling and community events.