ORDER YOUR COPY OF THE CONQUERORS!
CHRISTMAS-NEW YEAR SPECIAL $45 per book,
including GST, postage and packaging anywhere within Australia.
NO REFUNDS
You can secure your copy of The Conquerors in just a few simple steps.
Log in to your Internet banking provider and enter the following payment details:
BSB:

063 504

ACCOUNT NAME:

ACCOUNT NUMBER:

105 909 12

REFERENCE:

YOUR NAME (e.g. John Conway)

DESCRIPTION:

YOUR POSTAL/SHIPPING ADDRESS

(e.g. 12 Smith Street, Geelong, Vic, 3220)
Please email info@caribou.net.au to request an autographed copy of The Conquerors by John Craven, or call mobile: 0408-558469.
Payment by cheque accepted – Please send (along with your name and postal address) to PO Box 6453, Highton, Vic, 3216.
Books dispatched subject to cheque clearance.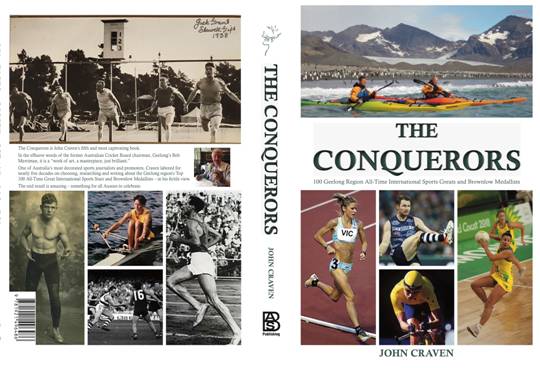 A REGION OF SPORTS ICONS
The Conquerors is a literary feast for all sports-loving Australians and history enthusiasts.
It embraces 33 sports and gives fascinatingly-stunning insights into the lives and careers of 100 of the Geelong Region's greatest all-time international sporting
luminaries – in the studious opinion of the award-winning journalist and promoter John Craven, an unashamed Geelong patriot.
The Conquerors pays tribute to top-flight Test cricketers Lindsay Hassett, Ian Redpath, Allan Connolly, Paul Sheahan and Aaron Finch, Olympic medallists
Russell Mockridge and Leigh Howard (cycling), John Landy and Nathan Deakes (athletics), Trish Fallon and Michelle Chandler (basketball), Peter Doak (swimming),
Dick Garrard (wrestling), Rebecca Joyce (rowing), Graeme Lloyd (baseball), Kate Allen (triathlon), and the modern-day heroine Jakara Anthony (mogul skiing) - plus a plethora of
Commonwealth Games superstars, world record holders, Paralympians and other illustrious champions.
Australian rules football is a stand-out, with the Geelong Cats' producing an amazing seven Brownlow medallists, kicking-off with the inaugural winner
Carji Greeves in 1924, flowing through to Bernie Smith, Alistair Lord, Paul Couch, Jimmy Bartel, Gary Ablett Jnr and current crowd favourite Patrick Dangerfield.
Craven has daringly ranked 50 of his Top 100 in order of whom he considers to be the greatest achievers on the global stage or in the Brownlow Medal –
the highest individual award in Australian rules footy.
He pays deserved recognition to the conquests of the other 50 stars in his Champions' Gallery.
TRADE ORDERS: CONTACT
THE CONQUERORS
0408-558469