GREAT SOUTH COAST TOUR
2020
CANCELLED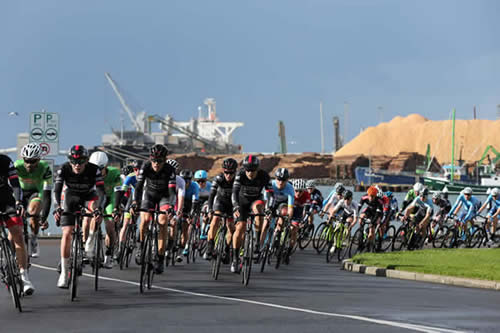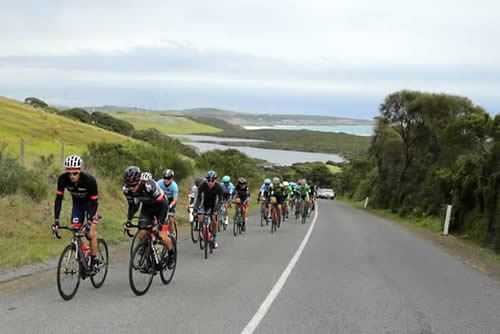 The Tour of the Great South Coast, Australia's longest and most popular National Road Series cycling race, has been cancelled for 2020 because of the Corona Virus.
Founded by Caribou in 2012, the six-day tour was initially scheduled to be conducted from August 25-30, and was later given a revised date of October 13-18 by Cycling Australia in the hope that the cursed virus would be eliminated in Victoria by then.
With a further deterioration of the situation and no end-in-sight, CA's sport general manager Kipp Kaufmann advised Caribou's managing director John Craven that the 2020 event would not be held.
"Over the past nine years, the Tour of the Great South Coast has built to become Australia's most prestigious domestic road cycling event," Kaufmann said.
"The winner of this tour has often gone on to further international success.
~
"As a result of COVID-19, the past few months have been difficult for the teams that are in the National Road Series and their sponsors.
"Additionally, with the continued lockdown in Victoria, there is a lack of clarity if teams will be able to participate or commit to travelling to Victoria.
"As a result, Cycling Australia will postpone the Tour until 2021. This will provide sufficient time for the Tour to return bigger and better than ever.
"As part of this return, we would commit to supporting a return to the July-August time frame and adding a women's tour for the first time.
"Cycling Australia has enjoyed a long and collaborative relationship with Caribou Publications and looks forward to continuing our work on the Tour of the Great South Coast in 2021."
John Craven said it was disappointing to lose the tour this year, but fully understood the mountainous difficulties involved in trying to organise the multi-stage event.
"With the border closed between Victoria and South Australia, the gate was shut on our popular two-State bike race," he said.
Craven added that the tour had received excellent sponsorship commitments from the municipalities of Mount Gambier, Grant and Naracoorte Lucindale in South Australia, and Glenelg in Victoria.
The tour's opening three days were to be conducted in South Australia, via Mount Gambier, Port MacDonnell and Naracoorte, before crossing into Victoria and taking in Casterton, Heywood, Cape Bridgewater and Heywood.
"We live in strange and precarious times," Craven said. "We can only hope and pray that the tour returns with a vengeance in 2021."
'